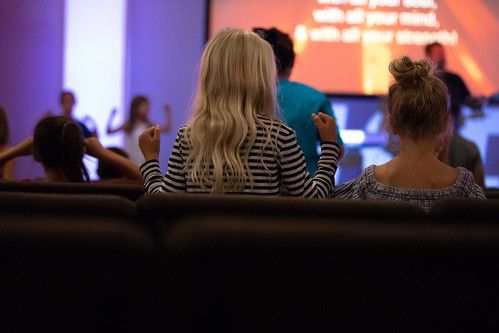 A place where our children can establish their faith in Jesus Christ.
In Matthew 7:24 - 27, Jesus told a parable about two builders and the one whose house was established on the rock withstood the storm. We want to create a fun environment where children can grow in their understanding of the word of God and the person of Jesus, so that they will have a strong and biblical foundation to build upon as they head into their middle school years.
Hello families! We're so excited to offer calvaryKIDS once again, starting this weekend with Northside. There are a few changes that we have made that we want you to be aware of before you bring your kids
Current Changes:
1. Volunteers will be required to wear masks. Kids will not be required to wear masks.
2. Snacks will not be provided or allowed.
3. Check-in & check-out will be outside the door, not in the classroom. A volunteer will have the clipboard for stickers at our new 1/2 doors.
4. Elementary kids will be checked in & out of the Youth space.
5. Kids temperatures will be checked at the check-in stations (using a non-contact digital thermometer).
6. In order for us to have time to sanitize the rooms between services, we ask that you pick up your kids promptly after.
Remaining the Same:
1. Intants through Kindergarten will be checked in & out in the calvaryKIDS area, per usual. Look for the signs above the doors as some classes may be combined.
2. Elementary and PreK will still be having Kids Live worship & teaching. (Elem in Youth space, PreK in Kids Live room)
3. Games & crafts will still be available to offer a fun learning environment for 19-23mths through 4th Grade.
If you have any questions, please contact Amanda (
[email protected]
).
We can't wait to see you & your children in calvaryKIDS, we have missed you!
We exist to shepherd children.

We exist to support the family.

We exist to proclaim the person of Jesus Christ through the entirety of scripture.
We believe in being above reproach. That's why all our volunteers undergo a background check and follow specific rules for the weekend. We are dedicated to providing a safe environment where your children are loved and cared for and where you can enjoy your worship experience worry free.
Update your family information here to make checking in your kids a breeze!
Have CalvaryKIDS at home?
We've got you covered!
A link to this week's videos, activity sheets, crafts, and lessons are available here.
CalvaryKIDS Special Needs
Our desire is to come alongside families, helping to meet their unique physical, emotional, and spiritual needs. Being that each situation is different, we work to develop an individualized plan to ensure what is best for you.